Main Page

---

Catalog Pages
A, B, C, D, E, F, G, H, I, J, K, L, M, N, O, P, Q, R, S, T, U, V, W, X, Y, Z.

---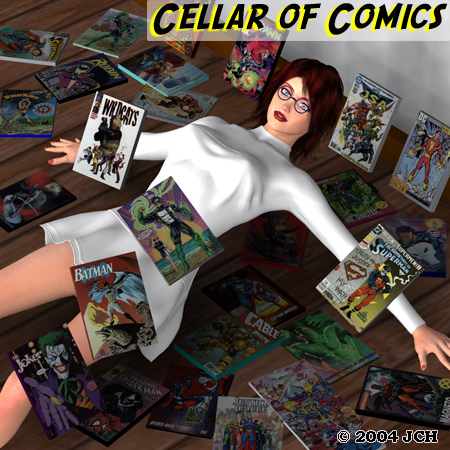 Welcome to the Cellar of Comics
Specializing in DC and Marvel Comics.
The Cellar of Comics started as a mail-order company in 1992 and opened this online store in 1998. We have a wide selection of comic books and graphic novels available for sale, from DC Comics to Marvel Comics to Image Comics to Dark Horse Comics... and more!
Whether you're looking for Batman, Superman, Spider-Man, the Avengers, the Fantastic Four, or the X-Men, we have books with all your favorite characters for sale. Or are you looking for more than just super-hero titles? We also have G.I. Joe, Robotech, Star Trek, Star Wars, Transformers, and many others.
Our catalog pages have been completely re-worked so EVERY comic that you see listed is in-stock and available for immediate shipping. Simply click the "Buy Now" button to purchase the issue.
We accept credit-cards (through PayPal) as well as money orders and personal checks. Please read the Instructions Page for details.
Note: to properly use the "shopping cart" features, please make sure that you have JavaScript enabled. Also, when you are ready to purchase the items (on the PayPal page), you may need to have cookies enabled as well.
We are very excited to announce our new Affiliate Program, where you can earn money by sending customers to us. Simply go to the Affiliate Program page, sign up as an affiliate, copy and paste some code, and start sending customers to us!