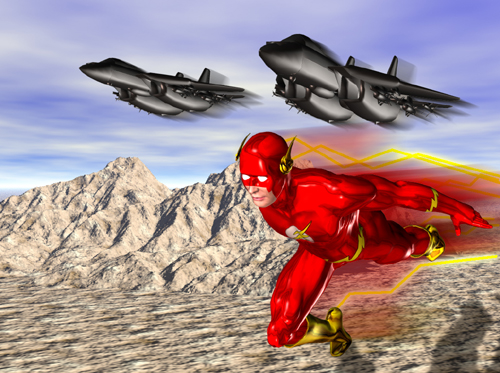 Description of artwork:
Inspired by the cover from Flash #1 (1987).

Flash character (Poser model) created by Sturkwurk and originally found on the 3D Comic Collective. The texture was enhanced with a metallic reflection map, the jet planes downloaded from 3-D Cafe, the background created in Bryce (by me), and the motion blur effects and compositing were added in Photoshop.

Special Note: this wasn't actually the first picture I ever posted to an online gallery... my first images were nudes (I didn't know how to conform clothing to the models), had bad lighting (I didn't know how to change it), and had bad camera settings (again, I didn't know how to change it).
And, those earlier images were made long before I kept copies for myself... and were posted on a site that crashed and lost all of the images.